Salted Carmel Whey Cream
For the experts on the subject, the Real Pharm brand needs no introduction. For years, it has been providing the highest quality products that are used by both professionals and sports amateurs, and who share the awareness of the need for supplementation. The manufacturer's offer includes primarily protein supplements based on excellent and fast-absorbable whey protein. Real Pharm nutrients greatly affect the growth of muscle mass, and after exercise support muscle regeneration, preventing their breakdown.
The latest proposition from Real Pharm is Real Pharm Whey Cream high protein creams. They are neither ordinary creams nor ordinary conditioners. These are ready-made products that can be used in many ways according to your own culinary tastes. What makes them different is the quick and easy way to take them. Real Pharm Whey Cream completely omits the stage of mixing, dissolving in liquid or coming up with another form of consumption. The packaging is a ready cream, which can be successfully used to prepare a snack, put on a waffle or crispbread. Real Pharm Whey Cream does not contain sugar, so without remorse you can also eat it in the form of dessert.
Real Pharm Whey Cream are available in several unique flavors. Real Pharm prepared the following flavors:
Chocolate
White Chocolate
Coconut
Raspbery
Salted Carmel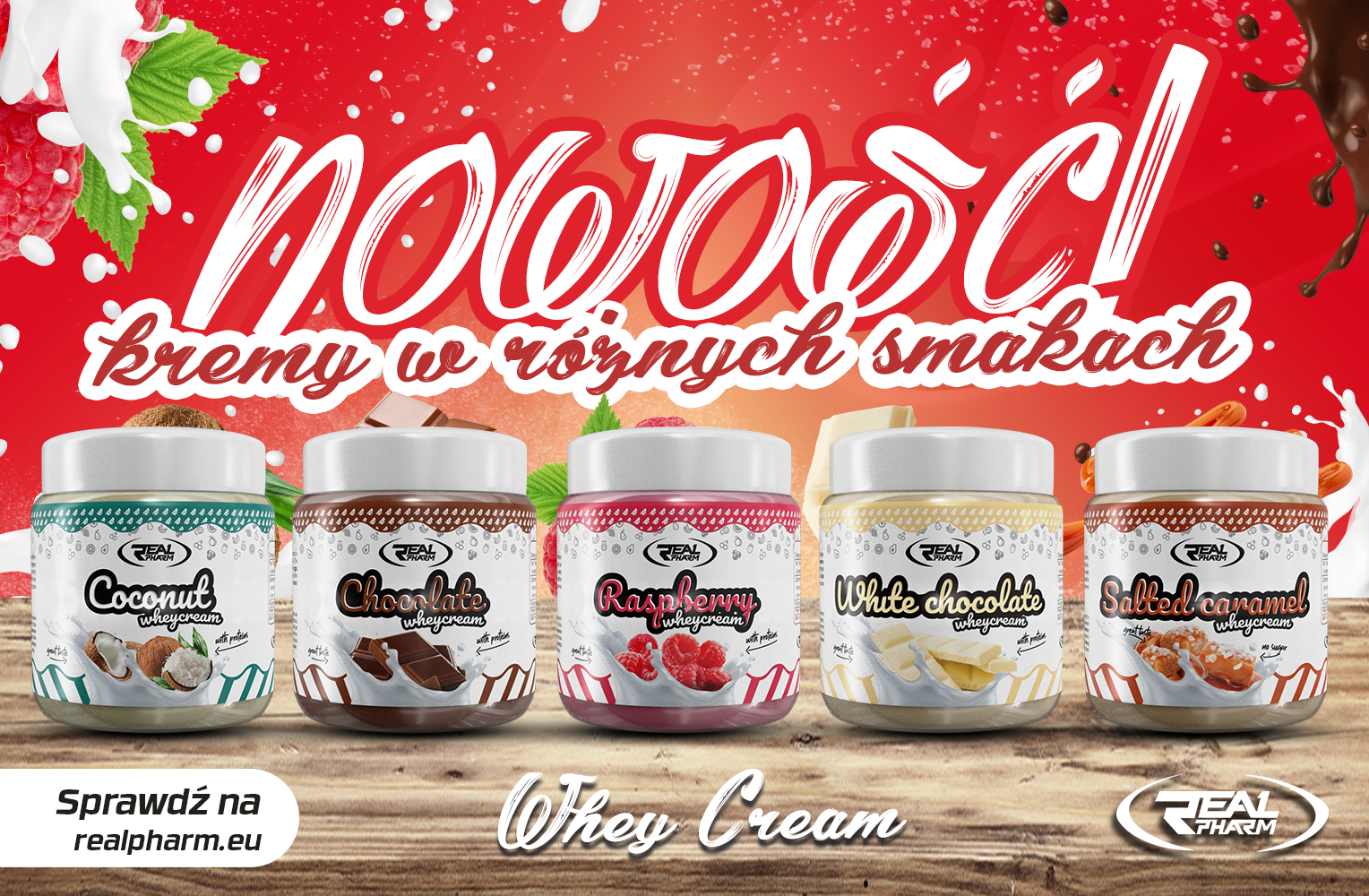 Certainly, those who like chocolate and fruit will like it. One package contains up to 500 g of cream, enriched with proteins.
Salted Carmel flavor composition:
sweeteners (maltitol)

coconut oil
whey protein concentrate (from milk)
rapeseed oil
aroma
rapeseed lecithin
Regardless of the flavor version, the ingredients remain the same. It is exactly the same with nutritional values, which are as follows:
| | |
| --- | --- |
| Nutritional Value | w 100 g |
| Energy value | 517,94 kcal/2149.9 kJ |
| Fats | 38,55 g |
| including saturated fatty acids | 30,04 g |
| carbohydrates | 39,69 g |
| including sugars | 1,15 g |
| including polyhydric alcohols | 38,54 g |
| roughage | 0 g |
| protein | 18,40 g |
| salt | 0,10 g |