Real Pharm HMB 300 caps
The lowest price of the product in the last 30 days before the discount is introduced is PLN with TAX
Safe shopping
Trusted payment methods.
Free delivery
From 99PLN (Poland), from 500PLN (abroad)
Return of purchases
14 days to return the purchased goods
REALPHARM HMB
PRODUCT DESCRIPTION
Are you focusing on intense strength training? Do you want to speed up muscle mass growth and gain anti-catabolic protection at the same time? Are you just at the beginning of you gym journey? HMB Real Pharm 300caps will improve the effectiveness of each training session and will help you achieve the goals you've set up.
HMB Real Pharm 300caps is a top quality natural short-chain fatty acid which is a product of leucine metabolism. One advantage of using HMB is its strong and effective activity towards preventing catabolism and speeding up muscle gains.
HMB Real Pharm, with its easy to swallow capsule form, allows for increased digestibility of hydroxymethylbutyrate, which is the main and only ingredient of this supplement. High concentration of the fatty acid and lack of any filling substances are the reasons why supplementation with HMB Real Pharm bings quick and satisfying effects. 
HMB Real Pharm positively affects the immune system and bone tissue, helps to reduce excess cholesterol and also effectively protects your already shaped muscled during the reduction period. 
Using HMB you can simultaneously make use of its anabolic and anti-catabolic effects, as well as its ability of activating natural fat burning processes. HMB belongs to the group of supplements especially recommended to those who are only beginning their strength trainings and to those about to set out on a journey of everyday recreational training. 
DOSAGE 
Take 1 serving (2 capsules) of the product 3 times per day. Do not exceed the maximum daily dosage of 3 servings (6 capsules) per day.
USAGE RECOMMENDATIONS 
Supplement designed for professional and amateur athletes focusing on quick and harmonious body development. 
HMB Real Pharm will be the perfect fit also in case of those who have an intensive lifestyle and those exposed to intense physical stress at work. 
WITH HMB YOU GET 
– Strong anabolic stimulus necessary for effective muscle mass gains
– Effective anti-catabolic protection
– Strong and enduring muscles, bones and joints
– Support for the locomotor system
– Perfect supplementation of your everyday diet with the optimum amount of most easily digestible amino acids
– Certainty that your training is effective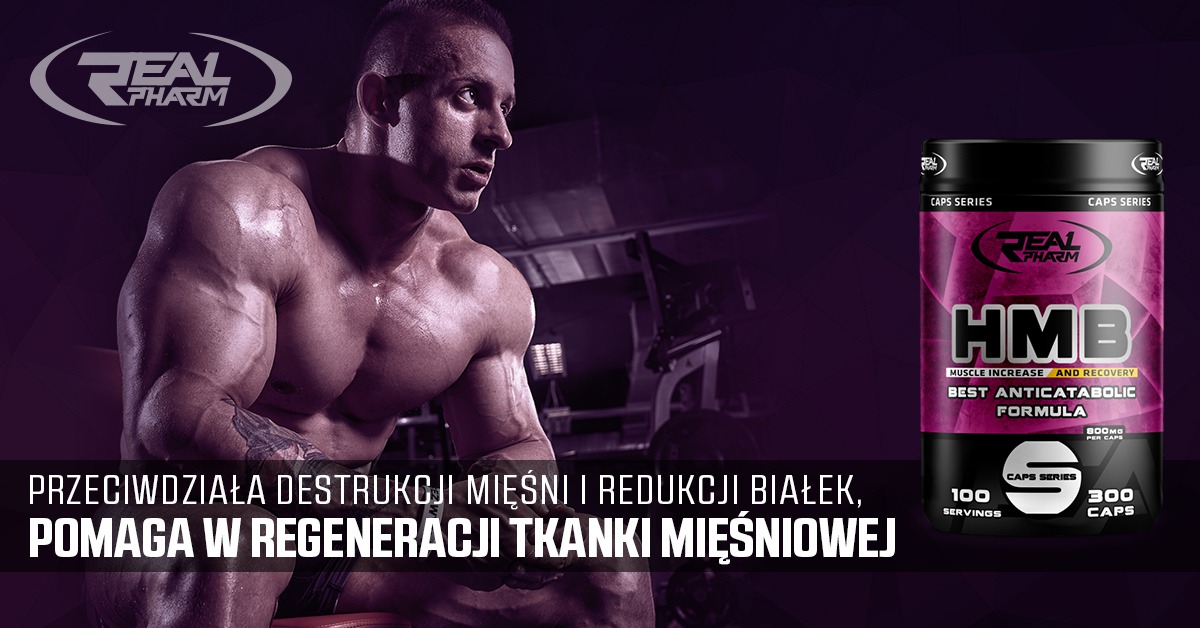 ACTIVE INGREDIENTS 
Customers who bought this product also bought: