Real Pharm Vit D 2000 +Vit K 90 tabs
The lowest price of the product in the last 30 days before the discount is introduced is PLN with TAX
Safe shopping
Trusted payment methods.
Free delivery
From 99PLN (Poland), from 500PLN (abroad)
Return of purchases
14 days to return the purchased goods
REALPHARM VITAMIN D 2000 IU
PRODUCT DESCRIPTION
Real Pharm Vitamin D – a dietary supplement that in one serving contains vitamin K and 2000 units of cholecalciferol. Combining them in one supplement allowed us to achieve a synergistic effect of these important 'vitamins of life'.
Most of the daily demand for vitamin D can be satisfied by vitamin D that is produced in our skin exposed to sunlight. The production of vitamin D in our skin is affected by the season, clouds, air pollution, latitude, creams with UV filters, skin pigmentation and aging. That's why additional supplementation with vitamin D is so important during the autumn-winter period.
The acquisition of vitamin D is influenced by sunlight. Unfortunately, in the autumn-winter season and in low insolation latitudes it is very difficult to produce the necessary amount of this vitamin. Vitamin D is responsible for our well-being, supports bone mineralization, improves calcium and phosphorus absorption. It is also conducive to the proper functioning of skeletal muscles. For men, it conditions the production of testosterone. 
 DOSAGE 
The recommended dosage is 1 tablet per day.
To best utilize the effect of this product, it is recommended to take it as a single serving during or immediately after a meal that contains fat, as these vitamins are fat soluble.
 WITH VITAMIN 2000 IU YOU GET
– The proper functioning of skeletal muscles
– Support of the development and functioning of the bone structure
– The right level of calcium in your blood
– Improved absorption and utilization of calcium and phosphorus
– Stimulation of the immune system, decreasing the risk of infections and immunological disorders
– Decreased risk of circulatory system disorders. It helps to regulate the level of insulin, thus preventing type II diabetes.
– Stimulation of the nervous system, preventing from the chronic fatigue syndrome
 ACTIVE INGREDIENTS
| | | |
| --- | --- | --- |
| Active Ingredients | 1 tableet | ZDS% |
| Vitamin D 2000 IU | 50 mg | 1000% |
| Vitamin K | 75 mg | 100% |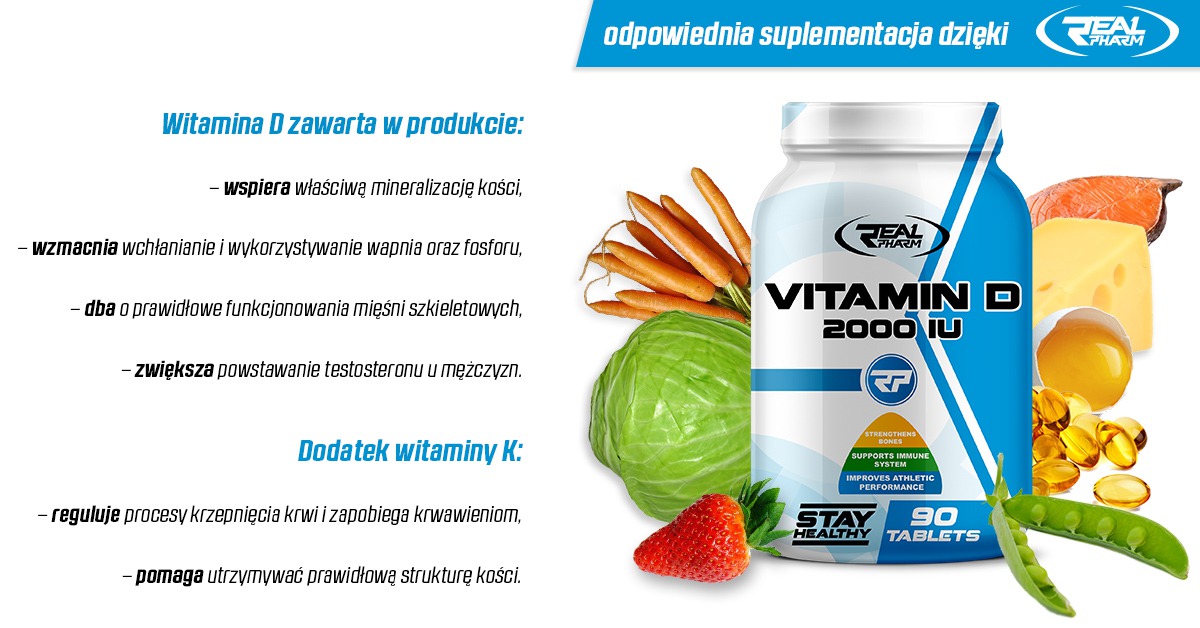 Customers who bought this product also bought: