Real Pharm Magnesium + B6 90 tabs
The lowest price of the product in the last 30 days before the discount is introduced is PLN with TAX
Safe shopping
Trusted payment methods.
Free delivery
From 99PLN (Poland), from 500PLN (abroad)
Return of purchases
14 days to return the purchased goods
REALPHARM MAGNESIUM + B6

PRODUCT DESCRIPTION 

Magnesium and vitamin B6 are the key to success of every physically active person. The body exposed to physical effort shows high demand of vitamins and minerals. The demand rises together with the intensity of the training because we lose vitamins and minerals as we sweat. 

Magnesium conditions the nervous system function and affects contractility of the muscles. The appropriate amount of magnesium in your diet assures the proper functioning of your muscles and the whole nervous system. Vitamin B6 positively affects absorption of magnesium. 

Magnesium + B6 means effectiveness and unique, properly balanced formula. It's a top quality supplementation for professional athletes who wish to improve their body functions, enhance their training possibilities and accelerate regeneration after extreme physical effort.

MAGNESIUM: 

– Supports the proper functioning of the nervous and muscle systems

– Increases resistance to stress

– Reduces fatigue

– Supports the proper muscle contractility

– Improves muscle functions during physical effort

– Increases protein synthesis

– Affects the pace of muscle growth 

USAGE RECOMMENDATIONS

Magnesium + B6 is a high grade supplement in 1350 mg tablets. It supplements our diet with magnesium and vitamin B6. It's been designed for both professional and amateur athletes. 

 WITH MAGNESIUM + B6 YOU GET 

– Optimally adjusted dosage of highest quality magnesium in the perfectly absorbable form of magnesium citrate 

– Improved endurance and well-being

– Big dosage of Vitamin B6

– Quick effects such as reduced fatigue, elimination of cramps and increased resistance to stress

 DOSAGE 

Take 1 tablet twice per day. Do not exceed the maximum dosage of 2 servings (2 tablets) per day. 

The product is intended for healthy adults. It should not be used by pregnant and breastfeeding women. 

NOTICE: Dietary supplements cannot be treated as substitutes of a balanced diet. Dietary supplements should be kept away from children

 ACTIVE INGREDIENTS 

| | | | | |
| --- | --- | --- | --- | --- |
|  ACTIVE INGREDIENTS  | 1 tablet | %RWS | 2 tablets | %RWS |
| Magnesium citrate  | 1050 mg | * | 2100 mg | * |
| incl. magnesium  | 150 mg | 40% | 300 mg | 80% |
| Vitamin B6 | 5 mg | 357% | 10 mg | 714% |




UWAGA - kopiowanie oraz rozpowszechnianie opisów produktów zamieszczonych w sklepie centrumodzywek.net jest zabronione! Zgodnie z Ustawą z dnia 4 lutego 1994 r. o prawie autorskim i prawach pokrewnych (Dz. U. z 2006 r. Nr 90, poz. 631 z późn. zm.) Cena za jeden opis naszego autorstwa wynosi 10 000 zł netto.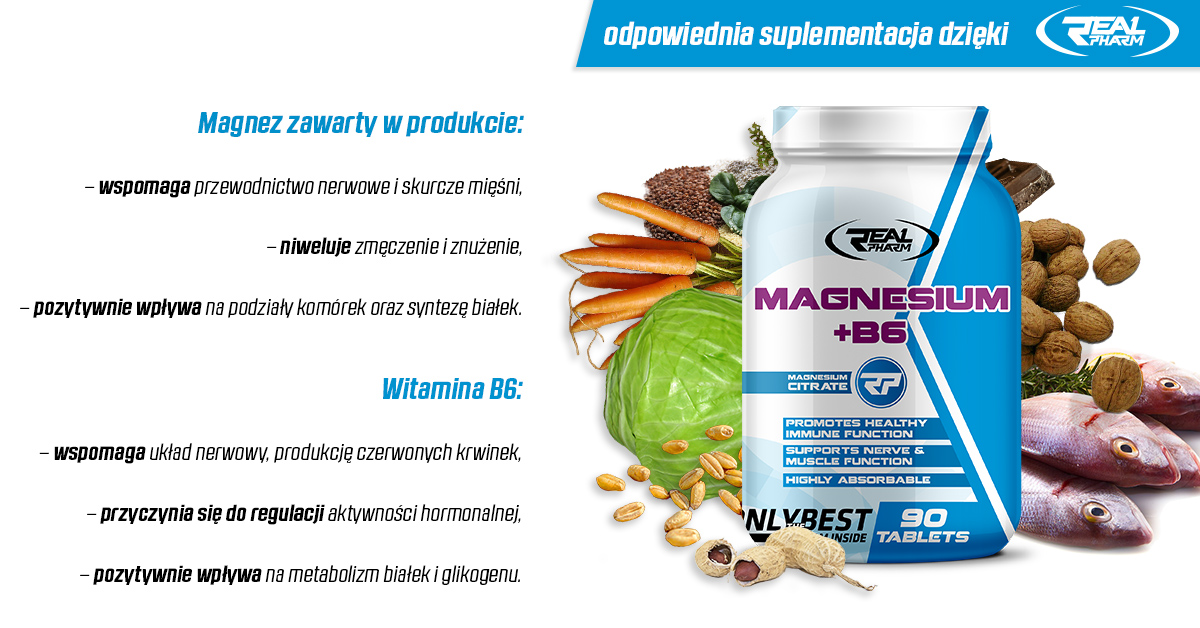 Customers who bought this product also bought: